The Organized Drawer. Everyone has that one drawer that they dread opening or worse, having someone else open it in their home. It may be the bathroom drawer, kitchen "multi-purpose drawer" or office drawer. There are items that are likely broken, expired and in most cases, simply do not belong. Raise your hand if you want that drawer to be "Instagram worthy" instead. 
I recently discussed how to reclaim your spaces with a group, the mission to start small organizing along with the 5 step process I follow. I summarized that in a recent blog post, so if you haven't seen that yet, I suggest reading here first before you continue on here!
When starting small, why not focus on a drawer? We all have them, multiple of them in fact. So that you too can have your own organized drawer(s), I wanted to provide you some resources, products that not only I use in client's homes but my own as well. Most of my shopping is done via The Container Store and Amazon. Without further ado, The Home Revival has rounded up some of the best drawer products out there.
The Look
There are a few options when it comes to giving your drawer a face lift. Let's talk about aesthetic  preference first. Depending on the contents of the drawer, if there is the potential for spills or leaks, I recommend going with a plastic option as it is easy to clean and wipe down if it does happen. You may prefer your drawer inserts blend into your drawers (& hide scratches in the drawer) and have a more custom finish for which I suggest the bamboo as it matches the interior of most drawers.
The Options
Now for types, there are four categories ranging from one large insert to multiple small inserts. You could utilize a "tray," meaning that it is larger, already has pre-divided sections and as long as it fits into your drawer, you can just put that in and divide the drawer contents accordingly. Some trays also expand too depending on the length of the drawer.
If you have tricky drawer dimensions or unusual sized products in that drawer, it may be easier to shop for sets. When shopping for sets, it requires playing a game of Tetris with yourself. There are multiple sized options, for which I always suggest buying a few extra so you have wiggle room to see what really works best for you. Just return what you don't need- it is easy!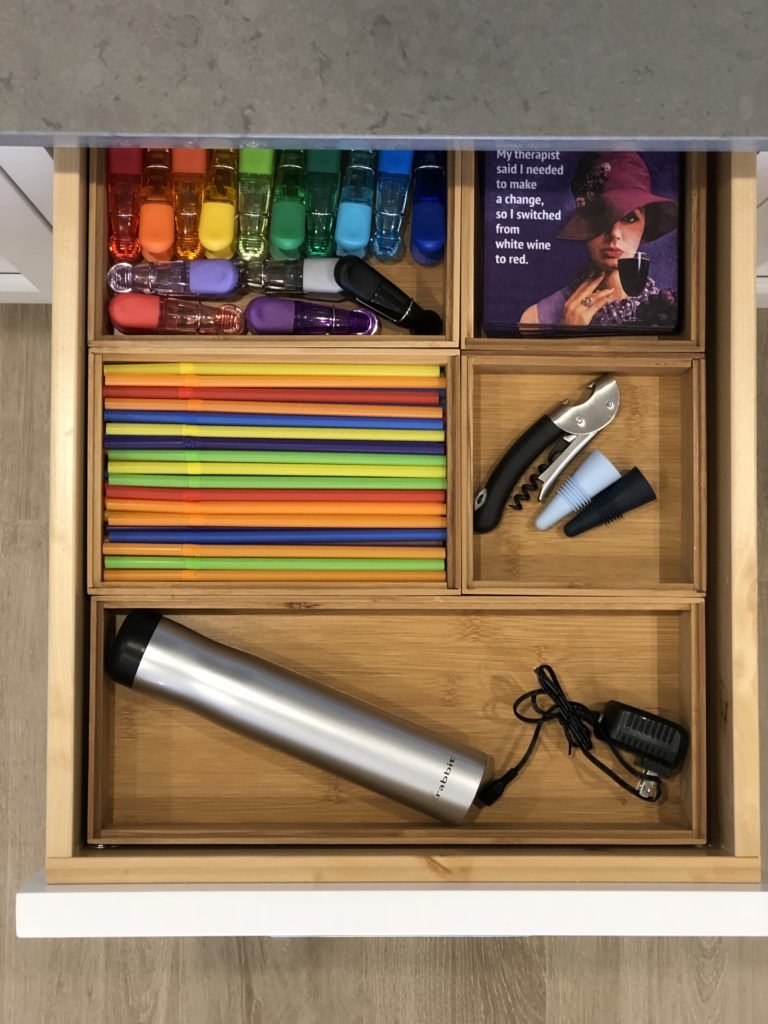 If there is some small unused space left in your drawer after, I utilize some bigger products to anchor it all in or museum gel. I actually prefer to use both options because I like things to be extra secure plus why not utilize all the space!
Some drawers may contain larger cooking utensils, bulky hair tools, or even be super long and need a little order (think undergarment drawer). For these, I recommend the spring adjustable and expandable drawer dividers. You can find these in plastic both clear and colored as well as bamboo. They have varying heights which is perfect to accommodate deep drawers too!
Other deep drawers may be better suited for larger inserts because the contents themselves need some structure (think bottles that stand such as face products or sunscreen).
On a final note, never be afraid or steered away from a product based on its title. It may be listed for children's supplies in the kitchen, but that doesn't mean you can use it for your larger hair bottles to keep them standing in the drawer and not rolling around.  Just make sure the products you are looking at buying not only fit but also have enough room for the contents you want to be stored in there. There are a lot of organizing products out there, which is why my goal here was to provide you with the research and products so YOU can get to organizing your drawers! 
If you are organize your drawers and use these products, be sure to tag me on Instagram @thehomerevivial with your finished project! I look forward to seeing what you do and am here for any questions you have.
Product Links
The links are displayed below in the order for which they were discussed above.
Plastic Non-Slip Drawer Organizer Inserts
Container Store Bamboo Drawer Organizer Inserts
Amazon Bamboo Drawer Organizer Inserts
Plastic Expandable Drawer Dividers, Normal Height 
Bamboo Expandable Drawer Dividers, Deep
Storage Organzier Container Bin
White Smart Store Tall Inserts
There are affiliate links within this post, which means I earn a small commission if you order through these links. These are products that I love and use myself. Thank you for your support of The Home Revival, it is greatly appreciated.