Gift Wrap Organization: 3 Options for the Perfect Setup
In case you have been running around with your head down the last two weeks; surprise it is December, which means 'tis the season of giving. As wonderful as this time of year is, it can quickly become busy from end of the year deadlines to holiday parties and cookie exchanges. While I may not have the answer for how to do it all this month, I can help you with one area to make the gifting season much more streamlined. I am talking about your gift wrap organization setup! 
At this time of the year, your setup is key to wrapping gifts with ease. Instead of having your supplies scattered throughout the house, try one of these 3 options to help create the perfect setup.
3 Options for Gift Wrap Organization
Elfa Over the Door: This option is tried and true, which you've seen me use for many areas in the home from nursery setups to cleaning supplies, the Elfa Over the Door unit does it all. As it has been mentioned, this option is customizable, and there is a specific option to accommodate gift wrap. This

option

has a bottom basket to stand wrapping paper, a peg board for gift bags and extra baskets for wrapping supplies, ribbons and cards. Another great reason I like this option is that it works if you are renting your home. Instead of drilling the unit into a door or wall, you can use over the door hooks to avoid any screws and nail marks.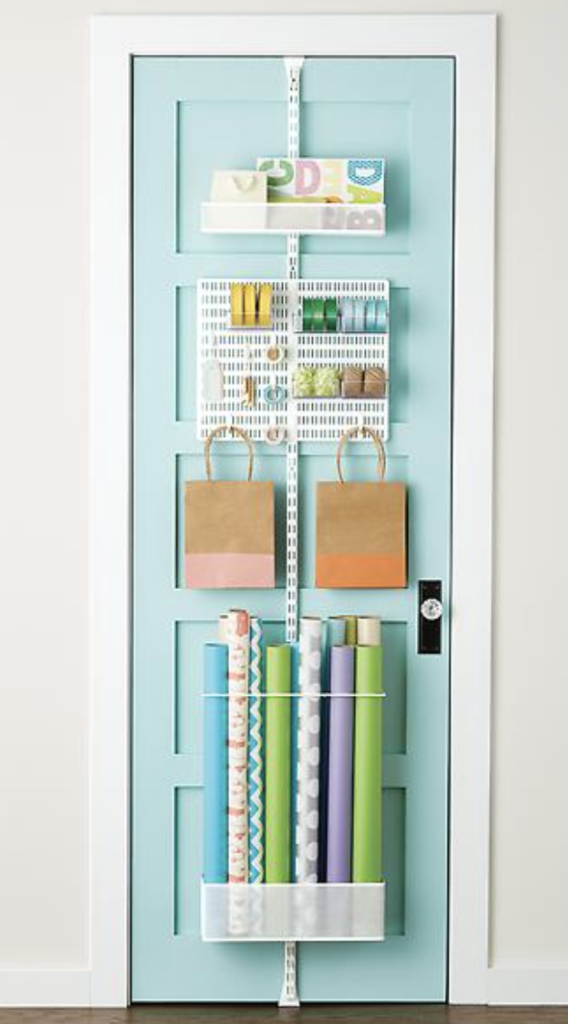 2. Elfa Mesh Gift Wrap Cart: With drawers to divide categories, exterior holders for ribbon and wrapping paper, the best part may be that it is on wheels and therefore can move room to room. Maybe you need to hide out from the rest of your family and so it goes to the back guest room to wrap. Or perhaps everyone is out of the house, so you can bring it in front of your TV, catch up on your show AND wrap. While this option is the priciest of the three options, it offers a lot of room and flexibility with the setup.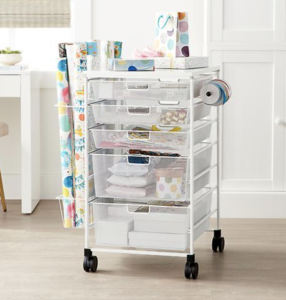 3. Clear Storage Bins: The simple yet effective clear storage bins work wonders for gift wrap storage, an option I myself use. While these bins are not limited to gift wrap organization, there is an option to one stop shop a customized gift wrap center. However, if you need more storage, I suggest looking at all the sizes of the clear storage bins, and purchase what fits your space and can adequately hold your given categories (think of the amount of wrapping paper, gift bags, tissue paper, ribbons, cards and of course supplies such as scissors and tape). This bin option works great for me, not only because it fits into my office closet but I can see when I am running low and need to restock.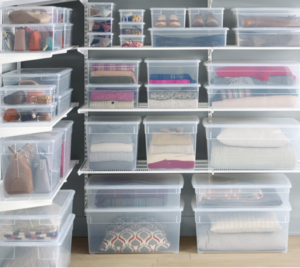 Look to where you keep your gift wrap. Does this space work or are you looking to store it elsewhere? Based on where you are planning to store gift wrap and your budget, these options cover a wide range and I look forward to seeing how you may utilize one of these options.As always, please be sure to reach out with any questions and tag The Home Revival on Instagram of your finished space! Happy Holidays and wishing you and your families a happy & healthy 2022!
All photography in this post courtesy of The Container Store. There are affiliate links within this post, which means I earn a small commission if you order through these links. These are products that I love and use myself. Thank you for your support of The Home Revival, it is greatly appreciated.