Back to School Organization
September usually means one thing for almost everyone (whether you are directly impacted or not): Back to School.
With the month of September in full swing, and school has now been underway for a couple of weeks, this seemed like the perfect opportunity to share some ideas (or games) for helping get your children's closets organized, no matter the age.
Last week, I partnered with cBOP, a local children's boutique in Haverford, PA. We selected the age groups of newborns, toddlers and elementary schoolers to highlight some organization tricks from The Home Revival. cBOP carries ADORABLE clothing from newborns to T6, as well as cute shoes, accessories and they can help you find the perfect gift!
Here are a few of the age specific games and organization tips I'd like to share with you.
Elementary 
Game:
Trying to teach your grade schooler to plan ahead and get out of the house on time in the morning? Consider getting into a Sunday habit with your kids to look at the weather forecast for the week ahead and plan out their outfits. This creates a sense of accomplishment and independence for your kids while making the mornings move more efficiently. Once you factor in the weather and their after school activities, label the outfits by day of the week so that they are easy to pull from the closet everyday. Now you are walking out of the house on time- YAY!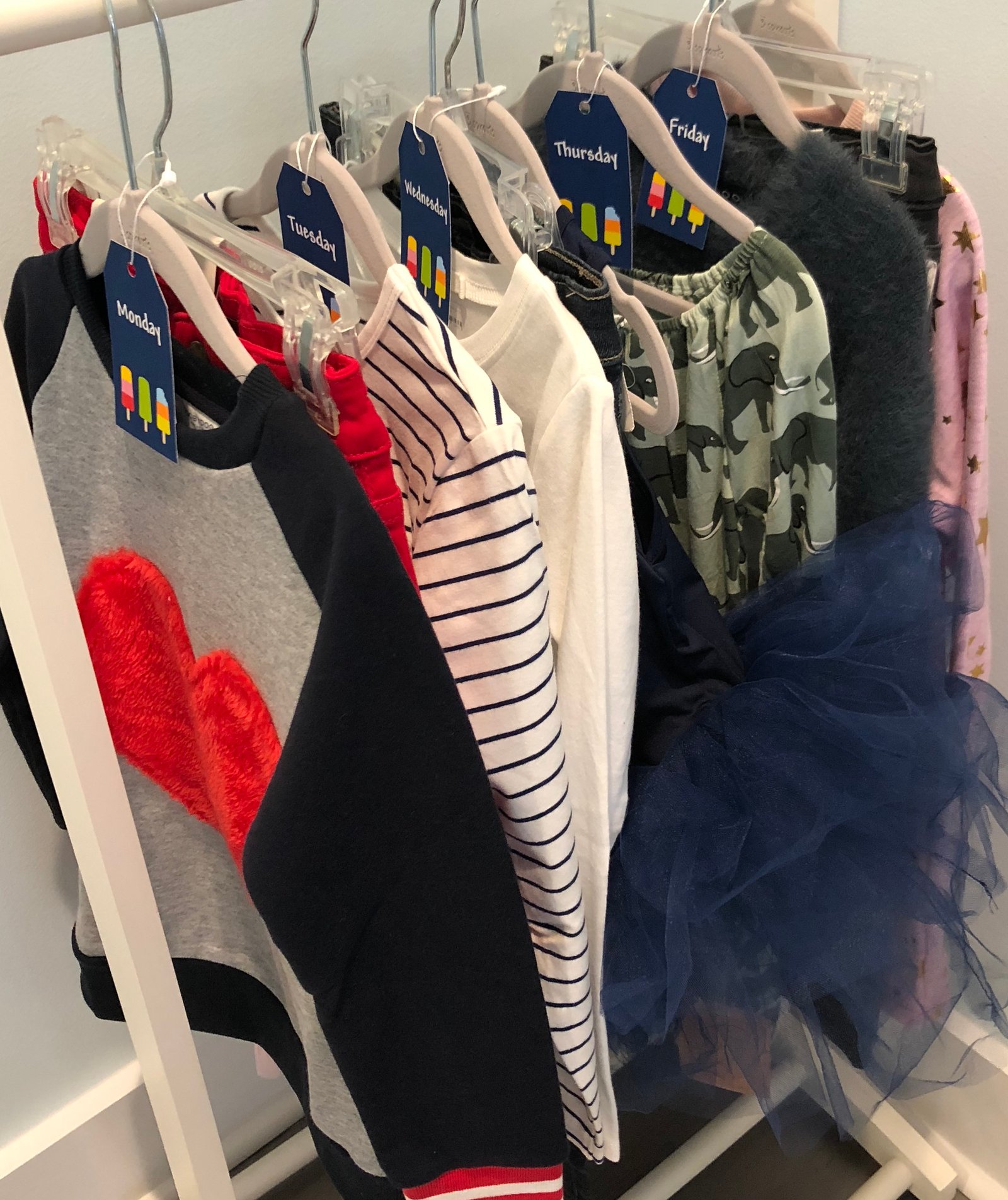 Toddlers:
Game:
Trying to teach your little one about the basic clothing items? Use rod dividers to divide clothes by item (as seen in the picture). On the other hand, if your child is younger and just learning colors, you could make the dividers specific to a certain color. All red clothes will go with the red divider and all the purple with the purple divider. Again, this offers your child a level of accomplishment in knowing their colors and types of clothing.
Newborns:
Parents Hack:
Since newborns aren't ready for games, this trick applies to parents. A very minimal investment are rod dividers for their closets. You can purchase these ClosetDoodles (seen here) to divide all the adorable onesies by size (0-3, 3-6, 6-9, 9-12,12-18 & 18-24) to make that first year that much easier. If you are feeling creative, consider purchasing blank ones to decorate yourself. All rod dividers can be repurposed as they grow or for younger siblings. The ClosetDoodle rod dividers are seen here in pink, but they also have blue and gender neutral colors.
Give it a try and be sure to tag @thehomerevival on Instagram in your progress!
-AD