An Organized Closet: Tips & Tricks to Maximize Space in any Closet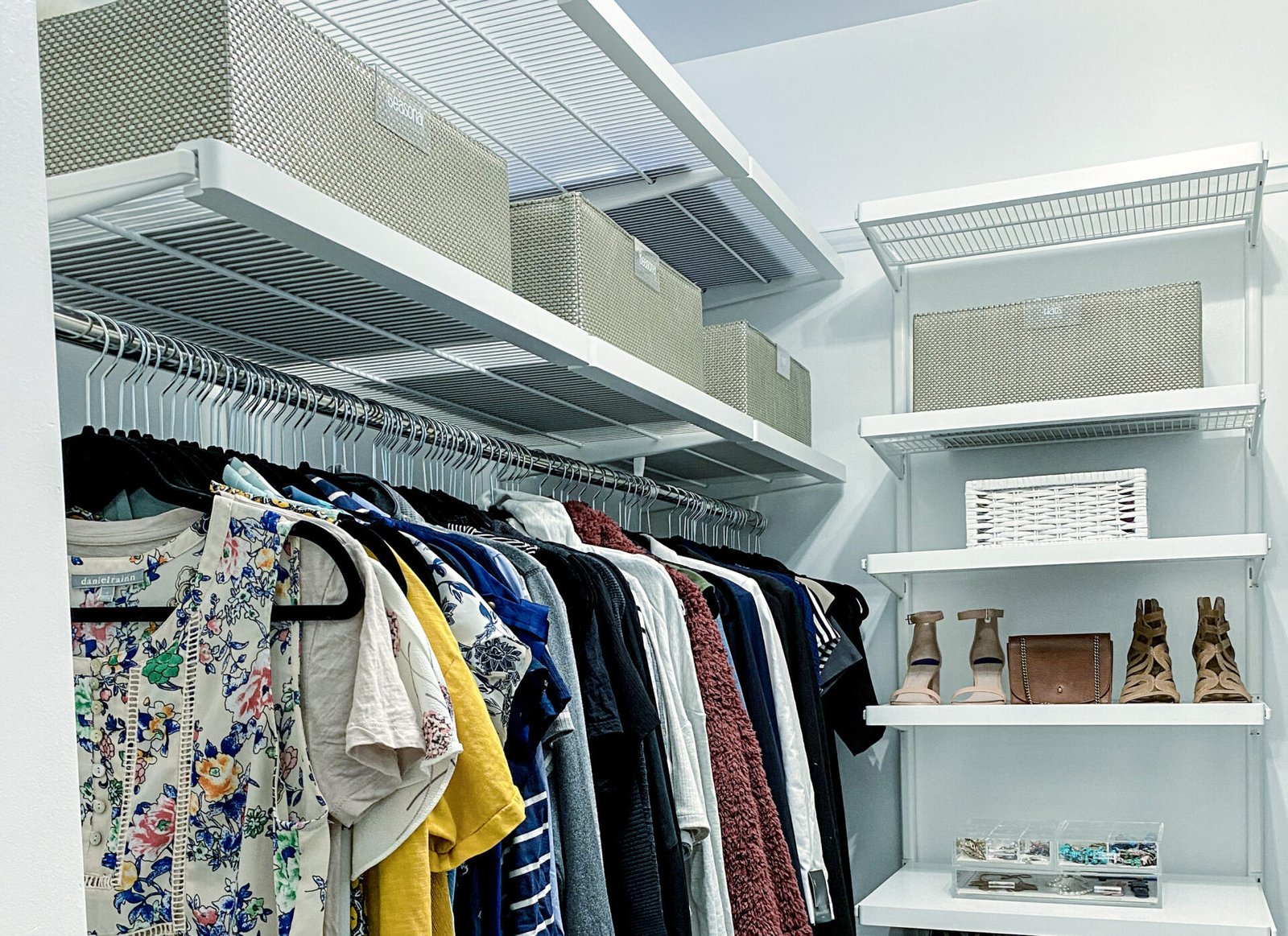 Imagine having an exceptionally organized, picture perfect closet. This closet is displayed in a way to help you facilitate what to wear that day without clothes falling out once you open the door. The reality however, is that this is simply a dream or an item on a never ending to-do list. From our recent survey of the messiest space in your home, 25% of you acknowledged that your closet was the worst. So know that you are not alone!
The closet (your main closet) can be one of the most challenging to organize and even more challenging to maintain the organization.  You may be kicking yourself for not keeping your closet organized, when in reality, the system you have in place may not be right for your lifestyle. Whether you are thinking about starting to organize your closet or wondering why you cannot keep it organized, I am sharing some tips and tricks below to help you on your journey to an organized closet!
When I mention "system," I am referring to the setup and usage of the space within the space.  For any given space, from your clothing closet to your linen closet,  you want to make sure that you give frequently used or needed items the best space, otherwise known as "the prime real estate." Keep what you wear daily or frequently within arms reach and maybe move the work attire (if you are still WFH) or out of season clothes to the back or higher up, because it isn't an everyday item.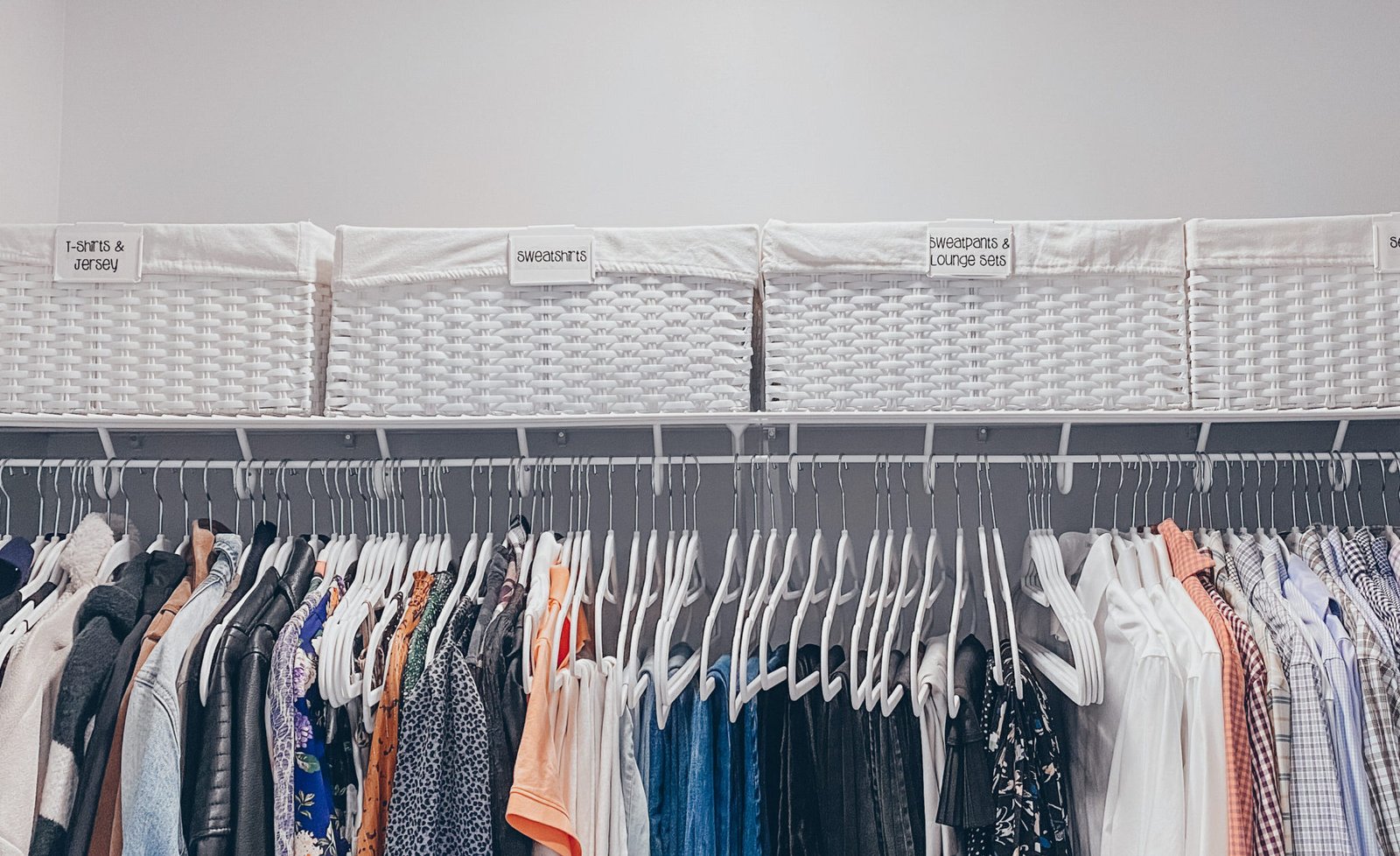 Looking to give your closet a cohesive look without breaking the bank and save space? Look no further than slim line hangers. I love these slim line hangers because they allow your eye to focus on your clothes rather than mix matched hangers while saving space. If you aren't into black or felt, there is an awesome acrylic version. 
If you have high shelves with items stacked on the shelves, the last thing you want is the entire pile to come toppling down on you when you only needed one shirt. Instead of putting on your shirt and moving on to your next task, you now added a few minutes to your day to refold shirts. Or you may just leave it, starting the downward spiral to a disorganized closet. I personally have some high shelves above hanging clothes in my closet and being only 5'5", I found it best to use decorative bins up top for clothes.  You could also use clear bins if you prefer to see into your categories. Instead of stacked piles, I have these in place which also help separate categories. Not only can I bring down a whole category (i.e. see all my sweatshirts), but I can keep clothes neatly contained in their bin without them toppling down. If you're looking for extra shoe space, higher shelves are great for these clear stackable bins  (think formal shoes or out of season).
Last but not least, stick to keeping categories together because it makes putting away laundry that much easier. If you are struggling with remembering, or just wanting to make your system foolproof, you can add bin clips to label your bins or even just add a p-touch label to the shelf!
With these tips and tricks in mind, my hope is that you can successfully use them and then say that your closet is no longer the messiest space in your home!  Remember to follow The Home Revival on Instagram to see these tips used in action. Plus you may learn a few more things along the way. If you have any questions about how you can have an organized closet, be sure to reach out!
There are affiliate links within this post, which means I earn a small commission if you order through these links. These are products that I love and use myself. Thank you for your support of The Home Revival, it is greatly appreciated.